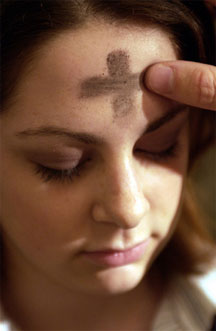 My ears had heard of you
but now my eyes have seen you.
Therefore I despise myself
and repent in dust and ashes.
Job 42:5-6
Today is Ash Wednesday, the beginning of Lent, and it's a great time to reflect on some things, like where we don't measure up, what we may be called to give up. I'm not much for giving up stuff for Lent, or at least never have been. But I think by the end of the day I'm going to come up with some stuff. I know there are things in my life, distractions, that are occupying a lot more of my time than should be alotted for them. So, during this season of reflection, I think I'm going to give some of them up, and I have a few hours to figure out what they are...
By the way, Thanks to
Mark D Roberts
for the photo. He's also got a really great post from a couple years back on Ash Wednesday that is definitely worth the read, check it out
here
.