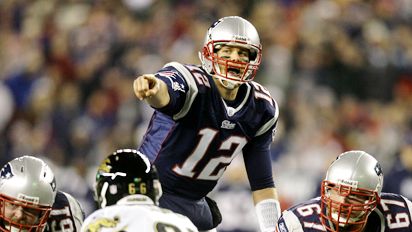 I'm watching Tom Brady pick apart the Jaguars defense right now. As much of a Wolverine fan as I am, I'm pulling for Jacksonville huge. (Which hurts even more when Watson catches another TD just now). Anyway, my first thought about my dislike of the Patriots and their quest of the perfect season at 19-0 is to ask "Do I hate excellence?" Because seriously, that's what I'm looking at. This team is phenomenal. And it's painful for me to watch. And it's pretty much the way I've always been. I've always pulled for the little guy to knock the bully off the top of the hill. So, I'm just another crab, pulling anyone down who gets too high. Or maybe it's something else...
I'm going to side with my second thought. I think there's something else to my dislike of New England and their Super quest. And it has to with the other guy or the other guys. God didn't pick the top dogs when he called a slave nation out of Egypt. Jesus didn't show up on the doorsteps of religious or political leaders when he spoke about God's kingdom designs or offered his healing touch. Gideon was the underdog. David was the underdog. Elijah was the underdog. And hanging on a cross, bloodied and beaten, is Jesus not the ultimate image of the underdog? So, I ask you, how can I not cheer for the underdog? I mean, if history hasn't taught us anything else, it's taught us that at the end of the day, it's going to be an
underdog
who will win in the end...